Illinois Bayou Hike Sat. Nov. 28th

CANCELLED
Beginning at 7:00 P.M. (Tuesday) Dec. 1st

at Doc Bryan Lecture Hall on the campus of Arkansas Tech University, a slide program will feature a brand new presentation titled:
A Rare Quality of Light
:
40 Years of Wilderness Photography from Tim Ernst's new coffee table picture book. Ark Tech Parks and Recreation Dept., TAKAHIK and Monfee Medical Clinic will sponsor the event. There will be a large selection of picture books, guidebooks, 2016 Arkansas scenic wall calendars, engagement calendars and Black Mat Prints, just in time for Christmas, available before and after the program and all at special sale prices. There will also be a question and answer session at the end of the slide movie. Refreshments will be served. The program is free and open to the public.
---
---
Dedicated to the promotion, preservation and enjoyment of hiking trails in Arkansas
Trail maintenance, conservation and education
Organized group hikes (See Scheduled Hikes)
Trail information and maps
Meetings last Tuesday of each month (Oct.-May)

As of 11/21/15:

476 Hikes

8370 Hikers

2077

Miles
---

Stepp Creek



Buffalo River

Hiking Arkansas




Hawksbill Crag



The Secrets of

Seven Hollows

TAKAHIK is now on Facebook.
A new way for hikers to communicate.
Just click on facebook above.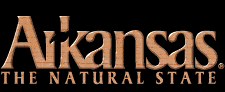 Visits since April 1999
Last Update November 27, 2015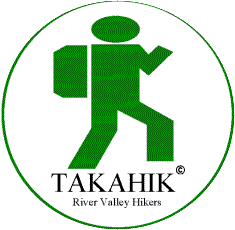 Takahik Logo Copyrighted VAu-482-430, 8/25/99
TAKAHIK (Pronounced "take-a-hike")
See Organization Video: Length: 1:44 min
Danny and Brenda Hale and their friends, Steve and Becky Hern, had been tossing around the idea about starting a local hiking club for several years. They were finally convinced to do so, during a slide-show presented by Tim Ernst and William McNamara, a nature photographer/hiking enthusiast and a nature painter respectively, when a sign-up sheet was signed by over 50 people expressing an interest in such a club.
Being encouraged by the response, an organizational meeting was held on January 26, 1999 in Russellville. A large crowd attended and after discussing some of the goals, projects and benefits of a club, TAKAHIK River Valley Hikers, was officially organized.
Meetings are held each month which include various programs on clothing, equipment, hiking trails, literature and books available, trail maintenance, future and on going projects, videos, trip planning (in and out-of-state) and scheduled hikes for the upcoming month.
Meetings and memberships are open to anyone interested in enjoying a part of Arkansas that most never get to enjoy. Great for families, friends and even your pets.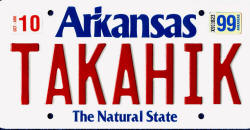 Officers Jan. 27, 2015- Jan. 26, 2016
President - Danny Hale Sec./Treasurer - Steve Hern Membership Coordinator - Mary Ann Rollans
Trail Maintenance Coordinator - Dale Boeh Events Coordinators - Bill & Gerry Hemmer
FOR INFORMATION OR QUESTIONS
Contact Danny Hale: (479) 968-7922 or 479-886-2625 Cell or Email dlhale@takahik.com
MAIL INQUIRIES TO: TAKAHIK River Valley Hikers
217 Canterbury Circle, Russellville, AR 72802
Designed using Microsoft Expression Web 4 '66